At this time of year, we're on the hunt for exciting summer food that is a hit for our taste buds but not our waistlines. But if you thought courgetti, or any spiralized vegetable for that matter has had its day, then you're wrong.
A substitute for carbohydrate and undoubtedly a dieter's best friend, the spiralized summer squash has amazing benefits for the skin and hair. Packed full of antioxidants such as lutein and zeaxanthin, the courgette 'fruit' provides the cells of the body with powerful protection against free radical damage, that may otherwise lead to ageing.
According to stylecraze.com, in a study lutein was found to prevent cell loss and membrane damage. It is also said to contain photo protective properties that protect the skin from UV damage. Further, the riboflavin element of the fruit maintains the health of the skin, hair, nails and mucus membranes.
And if you're not sold its beautifying properties, it's nourishing vitamins also help to strengthen bones and teeth, help balance thyroid and adrenaline function, whilst improving brain and memory function- making it the ultimate beauty food. Without further a due, here's a super scrumptious courgette special, perfect for those hot summer night's and lazy, long lunch times.
The recipe
Courgetti with pesto and balsamic tomatoes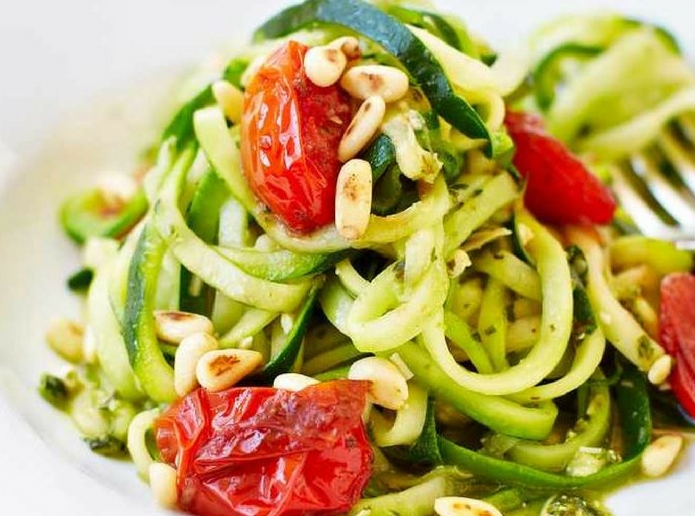 Ingredients
baby plum tomatoes 8, 4 halved and 4 whole
olive oil
garlic  1/2 clove, crushed
balsamic vinegar 1 tbsp
courgette 1 large, spiralised or very thinly shredded into noodles
fresh vegetarian pesto 2 tbsp
pine nuts 1 tbsp, toasted
Method
Step 1
Toss the tomatoes with 1 tsp oil, garlic and balsamic vinegar and some seasoning. Tip into a frying pan and cook for 5 minutes until the whole tomatoes start to burst and they are coated in the balsamic.
Step 2
Pour a kettle of hot water over the courgette noodles and blanch for 30 seconds. Drain really well, toss with the pesto and season well. Stir, coating the noodles, then add the tomatoes and toasted pine nuts to serve.