Renowned for being the first ever brand to dip their toes into Marine Cosmetology in 1964, THALGO has been keeping things fresh and innovative ever since. Founded in France, the brand prides itself on being driven by spirit and passion, constantly making leaps and advances in the field of biotechnologies within the cosmetics industry.
Enthusiastic about utilising only the highest-quality active ingredients within their products, the brand was able to discover over 60 active components during research in coastal and marine origins. Backed by science and a 'Marine Intelligence' program, THALGO strives for the creation of avant-garde cosmetics that are tailored to the unique needs of every skin type, while also being conscious and aware of the needs of the Ocean.
Having the best interests of the environment at heart means THALGO is highly committed to reducing its carbon footprint, along with maintaining its sources are responsible and sustainable. An ingenious eco-design policy ensures minimal environmental impact, while a desire to remain morally responsible drives the brand away from ingredients of animal origin*. To commemorate the Beauty Expert brand of the month, we tried and tested the new Spiruline Boost THALGO range to experience the refreshing, lovingly-crafted formulas for ourselves. Infused with Marine Magnesium and Spirulina, the range encourages a 'veil' against external factors, protecting the skin from dryness and pollution.
*Except beeswax and collagen.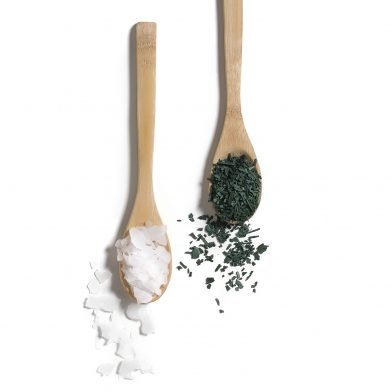 Energising Anti-Pollution Gel-Cream
Lightweight and cooling, the formula glided across my skin, leaving it feeling clean and fresh. The fast-absorbing nature of the gel allowed me to continue with my cosmetics routine as quickly as possible, without any waiting around for it to sink in. My visage felt instantly nourished, while the pearlescent formula promoted a subtle glow.
Energising Detoxifying Serum
The perfect pre-moisturising treat for your skin, my base felt instantly relieved from the dryness and irritation that I feel in the mornings. The non-greasy formula smelt natural and clean, with a hint of oceanic freshness, along with feeling replenishing enough to occasionally use instead of moisturiser (I have quite oily skin). A convenient pump made the serum quick and easy to dispense.
Energising Eye Gel
As somebody that is extremely prone to dark circles and puffiness under my eyes, I was incredibly excited to try out this product. The roll-on metallic balls felt soothing and chilled, almost offering an ice-cube effect as it drifted across my skin. My eye area immediately appeared brighter and a very small amount of the eye gel went a long way, allowing me to sit and massage the formula into my skin for longer. Easily my favourite product of the range.
Energising Booster Concentrate
The 7-day capsules were another favourite of mine from the range, with the adorable packaging making me feel like I was doing a scientific experiment each day. Along with Spirulina and Marine Magnesium, the capsules are also enriched with potent and hydrating Hyaluronic Acid and brightening Vitamin C, which gave my skin an immediate boost of luminosity and softness. Cracking open the capsule was quick and easy, as it had enough in it for morning and evening usage, making dosage simple to work out. If you don't fancy using it for a week, you can use them sporadically as a pre-moisturiser treatment. My complexion was left looking plumped up and more awake (which was great as I rarely get 7 hours of sleep).
Spiruline Boost Supplements
I felt slightly like an Instagram-famous influencer as I swirled my Spiruline Boost shot into my water. The bright-blue powder quickly combined with the liquid, resulting in a drink that looked like something you would order from a pool-side bar (I was in). A combo of Marine Magnesium, Vitamin C and Spirulina worked in unison to leave me feeling ready for the day, instead of the usual millennial sluggishness I feel most of the time. The taste was minty and lemony, leaving me feeling like I was about to step out onto a tropical beach, rather than onto the cold streets of Manchester.