We're Expecting… change
Public transport can be a nightmare for pregnant women. Crowded spaces, lack of fresh air and too many people. What makes it worse is having to stand, and not being offered a seat by those who could forgo theirs. 'Expecting Change' is an educational campaign pioneered by the experts at pregnancy beauty brand Mama Mio, and the results from their survey are eye-opening.
According to the survey, only 60% of people believe it is necessary to give up a seat for pregnant women on public transport.* A shocking figure, considering that there is consistent news coverage of women's issues such as the gender pay gap. Is holding the door open more important than offering a seat on public transport? Our respondents believe so.
* a survey of 2,000 regular users of public transport in the UK
Furthermore, 3 in 10 people believe that you don't need to offer a seat to an expectant mother until she is visibly showing and a fifth of mothers are too embarrassed to ask for a seat themselves.
To see this in action, Mama Mio went undercover on the London Underground with mummy blogger Anna Whitehouse (founder of Mother Pukka) and a fake baby bump.
The Mother Pukka Transport Experiment
With most London transport users buried in their phones, it's not surprising that Anna had to wait a while to be offered a seat, mostly by men rather than women.
In Anna's own words…
I felt that I had to make a big deal out of being pregnant, draw attention to the bump, and failing that asking for a seat, which makes you feel very uncomfortable
What can be done to improve the situation?
Despite the arguably dismissive attitude garnered by the survey, there's a sentiment that more can be done to start the conversation. 56% of respondents agreed that it should be made clearer who is eligible for priority seating, with 52% that agreeing more posters at stations and stops would help gain awareness of this growing problem.
It's also notable that one in five people are afraid of who they might offend by offering up a seat on public transport, meaning they avoid this scenario. Wearing a badge such as the TFL 'Baby on Board' badge or the Mama Mio 'I'm Expecting' badge, will help to signal to surrounding people that you require a seat, thus removing any social uncertainties.
Mama Mio are currently offering a complimentary 'I'm Expecting' badge with every purchase through Beauty Expert.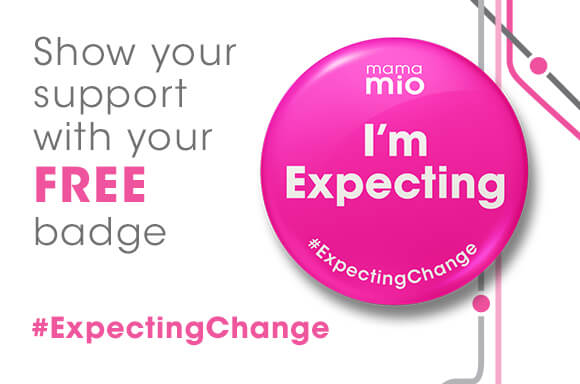 The most important thing to take away from this campaign is that pregnant women should expect able-bodied people to give up their seat, and wearing a badge is one simple way to start the initial conversation.
Would you stand up for a pregnant woman on the tube?                      Follow the Campaign and join the Conversation using the hashtag #ExpectingChange