Oh the weather outside is frightful! What better excuse to run yourself a hot, relaxing bubble bath with your favourite Molton Brown goodies? Here at Beauty Expert, we've decided to be very kind to you this year, by bringing in some amazing Molton Brown Gift sets, great for that perfect Christmas present for that special lady in your life! So whether it's your mum, your sister, your gran, your aunt or your best mate – or even yourself (well, you deserve it!), there's a Molton Brown Gift Set for you.
We've put together a step-by-step Molton Brown pamper guide to get you well and truly scrubbed up this winter.
Run yourself a bath…
Begin your relaxation session with the Molton Brown The Pamper and Preen Collection, an amazing gift set containing six gorgeous products which will, well make you gorgeous, basically! Use the Pink Pepperpod Body Wash (included in gift set) as your bath soak for a lovely, bubbly time in the tub.
The set includes: Hydrate Desert Blossom Intense Hand Rescue (75ml), Ultra pure Milk Soap Boxed Hotel (50g), Ambrusca Wash & Scrub Renew (30ml), Peruvian Maca Hydracream (10ml), Pink Pepperpod Body Wash (100ml), Pink Pepperpod Nourishing Body Lotion (100ml).
Light some candles…
Next, before getting into your bath, make sure you light your Molton Brown Three Kings Candle Set. This amazing candle set contains the Frankincense & Allspice Candle, Myrrh, Musk & Cypress Candle and Oudh Accord & Gold Candle. The perfect additions to add warmth to the room and create a seriously relaxing atmosphere.
Get scrubbing and exfoliating!
After relaxing in your little bubble bath paradise for about ten minutes, allowing your skin to adapt to the temperature (this will help your dead skin cells come off better), grab your Molton Brown Ambrusca Wash & Scrub from your Molton Brown Pamper and Preen Collection Gift Set and get seriously scrubbing! (Not too hard though). Formulated with Moroccan Argan Oil and Ambrusca Grapeleaf, this scrub will revive your dull, rough and tired looking skin, leaving you with a smoother-looking skin tone. Finish by foaming up your Pink Pepperpod Body Wash from the set to thoroughly cleanse your skin and leave it with lingering, sultry scent.
Envelope yourself in luxurious moisture…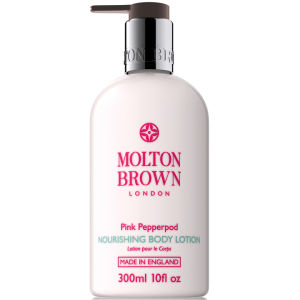 Last but not least, after your bath, slather on Molton Brown Pink Pepperpod Nourishing Body Lotion whilst your skin is still damp to lock in optimum moisture. Rich and intensive, this nourishing lotion is blended with pink pepper pods, ginger oils and a skin-pampering complex, helping to leave it firm, comforted and hydrated with a delicate, seductive scent.
So go on, give yourself a little tender lovin' care and pamper yourself this festive season. Or be a great human being and get one of these gift sets for your loved one!