Everyone loses hair. You lose it in the shower, whilst you're brushing your hair, whilst your blow-drying – it's completely normal for this to occur on a day-to-day basis. But when you're excessively losing hair, it can become a real problem, and sometimes, hair loss may be a sign of a more serious medical condition. Luckily, there's hair products on the market that can be the first step to aiding hair loss. Here on the Beauty Expert blog, we're taking a look at the new Redken Cerafill range.
Redken Cerafill Retaliate
Now, the Redken Cerafill Retaliate range has been specifically designed for people who suffer from advanced thinning hair loss and is made up of a shampoo, conditioner and stemoxydine treatment, which all work together to effectively thicken and aid the regrowth of hair.
The Redken Cerafill Shampoo & Conditioner's main purposes are to stimulate the scalp whilst you wash and condition your hair. The stimulating menthol formula gently cleanses your hair, working to remove impurities and follicle-clogging sebum, whilst improving the appearance of advanced thinning hair. Plus, they're safe for colour and chemically-treated hair.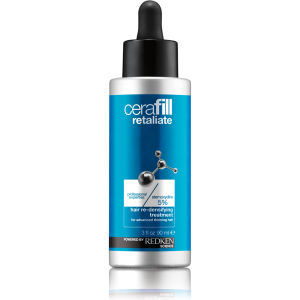 The shampoo and conditioner are great for day-to-day assistance in gaining thicker hair, but the real star of the show has to be the Redken Cerafill Retaliate Stemoxydine Treatment – long name, huh?! A long name to help you get a thicker mane! You can expect to see proven visible results after around three months. This invigorating thickening system contains 5% Stemoxydine, that works to leave you with the appearance of thicker-looking hair, whilst improving the density of your thinning hair. The treatment works by strengthening the hair fibre, preventing breakage and energising your hair follicles.
How to use Redken Cerafill Retaliate Stemoxydine Treatment:
Divide your hair into eight sections, focusing on the thinning areas of your hair.
Fill the bottle pipette with Stemoxydine 5% and apply the serum directly onto your roots and scalp.
Gently massage into your scalp until the serum has been absorbed, don't rinse it off – allow it to work its' magic!
Don't forget, you can shop the full Redken range at BeautyExpert.com.