Last Updated:
06/03/2020
Introducing Bloom & Blossom, an award winning beauty range catering to women, mother's to be, babies and children.

Bloom & Blossom was created by Sisters In Law Julia and Christina back in 2010. For International Women's Day, I sat down with the Founders to discuss what the day means to them and the inspiration behind the brand.
Where did your inspiration come from to create Bloom & Blossom?
We have always been interested in beauty and skincare, in fact I think we can say we are beauty junkies. Searching for innovative solutions to looking and feeling our best – and no more so then when we were pregnant. We wanted natural, effective, safe, ingredient-led products that delivered the same results as our non-maternity focused skincare. We wanted something stylish and elegant and didn't scream 'pregnant'. When we couldn't find anything on the market we liked, we decided to create our own. It's a vision that has taken a lot of hard work and dedication but we now have a full range of products from maternity, baby, sleep and children. We are really proud of all we have achieved so far – it's far away from the kitchen table where we started!
What were you doing before Bloom and Blossom?
Christina was working in Finance and Julia in PR & Communications
As mothers, I would love to know how you manage your work/life balance, especially in the early years of the brand?
It's tough, as any work mother will understand, especially if you are not getting enough sleep (which is why we created our Sleep products) but you find a way.
We love this quote by Tina Fey – 'I think every working mom probably feels the same thing. You go through big chunks of time where you're just thinking. "This is impossible – oh this is impossible" And then you just keep going and keep going and you sort of do the impossible'.
In the early days, we remember going to meetings and looking at our clothes and realising there was a bit of baby sick or food smeared over our shoulders.
It's really important to have supportive relationships not just in your personal life but also at work.  It's also important to be honest, if you are finding things tough. We've found that working mother's put themselves under incredible pressure at work and at home.
Looking back at your Bloom & Blossom journey, is there anything that you wish you had done differently?
We've experienced all sorts of ups and downs and I'm sure there are lots of things we wished hadn't happened but you learn from all those things and can look back and laugh. We wouldn't be where we are today without having experienced some of those downs and learning and growing from them!
What does International Women's Day mean to you?
It's really important, we love the sense of camaraderie and support it creates globally. It feels great to be part of something so positive.
What's the most important piece of advice you'd give to a woman thinking of starting her own business?
Do it! Seriously, do it! Believe in yourself, find something you love, be prepared to work hard and believe that anything is possible. When the time comes, it's important to hire good people who can bring skills and experiences you don't have. Listen to your customers and your gut and learn from any mistakes along the way
On International Women's Day, what is the most important message you want to send out to young women thinking about their careers?
Believe in yourself and know your worth.
Can you tell me about a female role model who has inspired you during your career?
We're actually both really inspired by Reece Witherspoon and Nicole Kidman who dissatisfied with the lack of strong female roles and representation in Hollywood, set up their own respective production companies. They are now producing (and starring) in their own award winning films and television shows including Big Little Lies. We love that they took control of a situation they didn't like and have made a real impactful change.
As this year's International Women's Day campaign is #EachforEqual, can you tell us what gender equality means to you?
For us Gender equality means the rights, differences and needs of women, men or gender fluid individuals are considered, valued and favoured equally. We should be working to empower and educate women and girls to reach their potential. As small business owners we have worked hard to ensure that there is no gender pay gaps and 50% of our workforce is employed a flexible basis in order for our employees to achieve a work/life balance. Everyone has a part to play to create gender equality within our communities.
Finally, I would love to know what brand and product feedback you receive from your children?
The inspiration came directly from our children leading us to create a sleep range that places the importance on a good bath, book and bedtime routine. We run all new product ideas by our children be it fragrance, packaging and design and if they give us the thumbs up we know we are on to something good.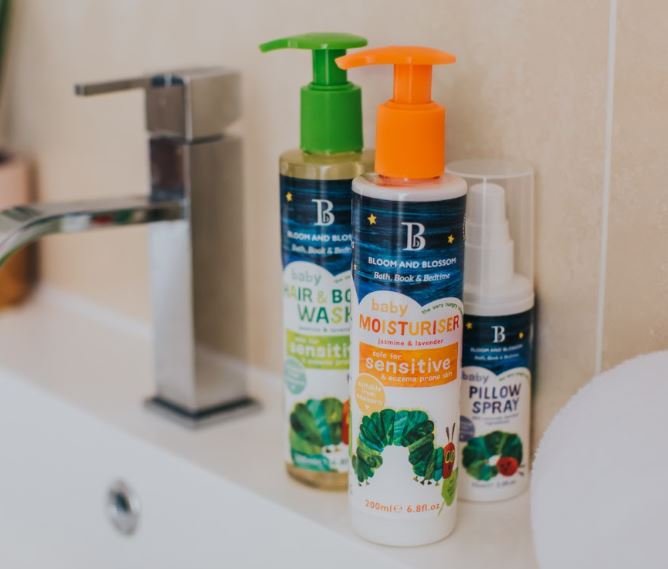 Not only are Bloom & Blossom products dermatologist approved, free from parabens, petrochemicals, SLS, silicones and colourants and 100% naturally derived but they are also beautifully packaged and smell divine.
 I have been lucky enough to try the range and can safely say that I am in love with this brand. My stand out products are the silky smooth Anti Stretch Mark Oil, the Wonder Balm which is great for my hands, lips and any other dry areas and finally the Sleep Night-Time Pillow Spray which provided me with the best night's sleep I have had in ages. As well as their range for women and mother's to be they of course offer an extensive baby and children's range. The baby and children's range has the most eye catching and adorable Roald Dahl or Very Hungry Caterpillar packaging bringing some seriously cute colour to your bathroom shelf.
Shop the brand here