Heritage
Derived from a need to create skin care that's simple but highly effective, Eve Lom have become one of the leading developers within the world of luxury skincare. Focusing their products to bring you beautiful results from natural sources and premium essential oils.
With award winning skin care being developed every year, it's hard not to recognize the anti-aging, soothing and brightening treatments that Eve Lom has successfully created over the years. Here are a few of our Editor's top Eve Lom skin care products that we recommend you try today.
Editor's Picks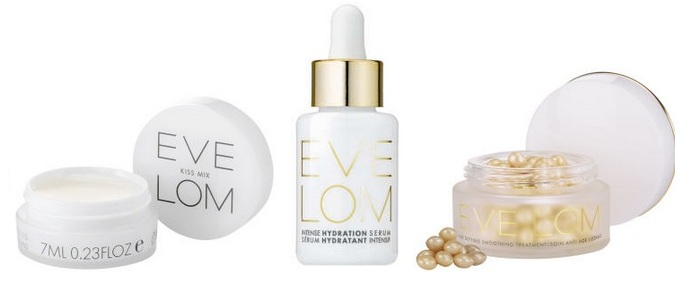 Eve Lom Kiss Mix Lip Treatment
Nurse your sore, chapped lips back to health with this all year round treatment to keep those lips moisturised and protected from UV rays and biting winds. Zinc Oxide comforts dry lips and acts as a natural sunscreen, while Menthol cools and freshens. Kiss Mix can also be used under lipstick as a moisturising base and over it to add shine. Its natural, subtly glossy finish makes it perfect for both men and women.
Eve Lom Intense Hydration Serum
Clinically proven to boost your skin's moisture levels by up to 20% in just two hours, Eve Lom Intense Hydration Serum uses hyaluronic acid to plump, smooth, hydrate and protect your complexion.
Lightweight and easily absorbed, it works to visibly reduce the appearance of fine lines and wrinkles, whilst nourishing your skin to keep it soft and supple.
Eve Lom Age Defying Smoothing Treatment
The Eve Lom Age Defying Smoothing Treatment is a potent anti-ageing serum that's contained within a capsule to ensure freshness. Formulated with a Hexapeptide that's made up of five natural amino acids to fight against expression lines and ageing, it also contains Tocotrienols from the vitamin E family, which shield your skin from damaging UV rays. Your complexion will be left looking smoother, brighter and more youthful.
Eve Lom TLC Radiance Cream is a daily moisturiser to help your skin look and feel soft, hydrated, youthful and radiant. This lightweight daily moisturiser, suitable for all skin conditions, provides hydrating, lifting and radiance boosting actions. Naturally fragranced with the most luxurious and natural essential oil Rose Otto of Bulgaria, Eve Lom TLC Radiance Cream contains an exclusive blend of highly effective ingredients to give a more youthful complexion:
The ultimate in skin care, this Eve Lom Cleanser provides skin with multi-purpose benefits, removing daily dirt and impurities while decongesting, exfoliating and toning the skin. Enhancing your routine with a unique blend of Clove oil, Eucalyptus oil, Hops oil, Egyptian Chamomile oil and Cocoa butter to soften and condition your skin.
Eve Lom's Eye Lift is an efficacious triple-action, anti-wrinkle eye cream formulated with retinol microspheres and oat kernel extract that lift and firm skin.
Eye Lift is Eve Lom's first product with anti-ageing ingredient Retinol. Retinol Microspheres lift and firm the skin, while blended with soy isoflavones to lessen appearance of deep wrinkles and fine lines.
Eve Lom's Eye Lift Cream is loaded with vitamin C to illuminate skins tone, Hyaluronic acid provides long lasting hydration to unveil a smoother, re-defined and younger looking eye zone.