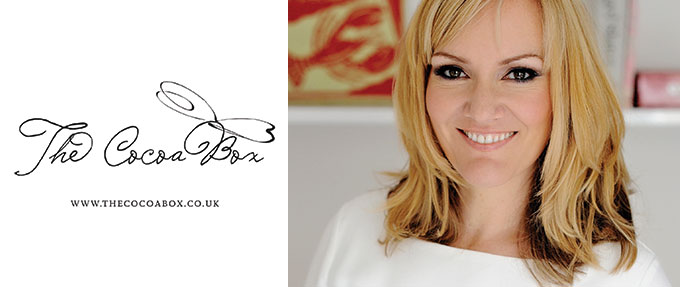 In celebration of our #BENATURAL campaign at Beauty Expert, we've teamed up with Lisa Marley – founder of The Cocoa Box.  With a passion for fresh flavours, Lisa likes to take classical recipes and simplify them for everyday cooking. It was in 2009 that Lisa Marley set up The Cocoa Box, which is based in London and offers bespoke baking experiences for entrepreneurs such as Jo Fairley (founder of Green and Blacks chocolate) to those just wanting to brush up on their baking skills. With an ability of inspiring others to be more creative and adventurous in the kitchen, we want to share two of our favorite recipes with you for you to enjoy in the comfort of your own home. Lisa Marley, over to you…
---
Daily Dose of Goodness Muffins
---
You can make these muffin in advance and freeze them so they're super convenient! We all know how important it is to make sure we're eating well, taking down time and exercising, but modern life is often all too fast paced. Pre-baking the muffins in a big batch ensures you can take one out of the freezer before you go to bed, and know you have a nutritious and delicious breakfast ready for the next morning. You can also warm them in the oven in the winter months, which makes them even more delicious.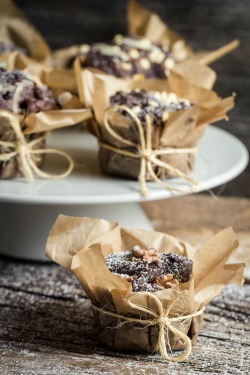 Ingredients:
85g (3oz)   Extra virgin coconut milk
100g (9oz) Spelt flour
100g (9oz) Self-raising flour
60g Cocoa Powder
1 tsp Baking powder
1 tsp Bicarbonate of soda
3 tsp Chai seeds
3 tsp Cocoa nibs
4 tbsp Agave Nectar
50g (4.5oz)Coconut sugar
2 large eggs, beaten
250g (90z) Greek yogurt (can substitute for plain)
125g (4.4oz) chopped walnuts (plus some for decoration)
Method:
Preheat the oven to 200  (Fan 180/400F/Gas 6)
Line a muffin tin with 12 muffin cases.
Warm and melt the coconut milk in a small pan and set aside and allow to cool.
Add the dry ingredients into a bowl and stir to combine.
In a medium bowl, add the eggs, coconut milk, agave nectar and yogurt and stir to combine. Add this mixture to the dry ingredients and stir to combine. Do not over mix as the muffin will become firm. Spoon into the muffin cases. Place a few walnuts on top and slightly into the mixture.
Bake for 25 minutes or until well risen and firm to the touch.
Remove the tin from the oven and allow to stand for a few minutes. Transfer to a wire wrack and eat whilst still warm. These muffins can be frozen for up to three months.
---
Chocolate Truffles
---
Chocolate is one of life's joys and it doesn't need to be packed with sugar. These truffles are soft, creamy and packed with flavour. Sometimes only chocolate will do do and by adding coconut milk, you can create a silkiness that enhances the cocoa flavour. They're great as an afternoon pick-me-up, or prefect as an after dinner sweet. I'm sure you will enjoy making these truffles time and time again.
Ingredients (makes approx 4o truffles): 
300ml full fat coconut milk
1 knob of salted butter
300g (27oz) good quality dark chocolate, chopped
Vanilla Pod
200g (18oz) good quality cocoa powder to roll the truffles in
Method:
Split the vanilla pod with a knife and scoop out the seeds. Add the seeds to the coconut milk.
Put the coconut milk in a pan over a medium heat and bring to a simmer.  As soon as tiny bubbles start to appear, add the knob of butter and stir. Once the butter has melted, pour this hot mixture over the chocolate pieces, allow to 30 seconds then whisk together.
Once melted and smooth, pour the melted chocolate mixture into a bowl. Place this in the fridge over night to set.
About 30 minutes before you're ready to make your truffles, pull the bowl out of the fridge and let the chocolate warm up to room temperature.
Use a tea spoon to scoop out bite size pieces. Roll in your finger tips to shape and soften. Roll in the cocoa powder for decoration.
These truffles are best eaten within three days. You can also freeze them for up to three months. Defrost in the fridge.
Thanks so much Lisa Marley, we cannot wait to give these delicious recipes a try!