To get the lowdown on eating pretty, we asked celebrity dermatologist Dr. Nicholas Perricone, the author of best-selling books, The Perricone Prescription and The Wrinkle Cure, for his top-tips on beauty foods. So, say hello to antioxidant and anti-inflammatory recipes using ingredients such as asparagus, wild salmon and dark chocolate, and good-bye to wrinkles, dull skin, and other signs of ageing…
Stop the Clock! Cereal
This do-it-yourself cereal is packed full of anti-oxidant rich ingredients such as old fashioned oats and oat bran for improved skin and hair health.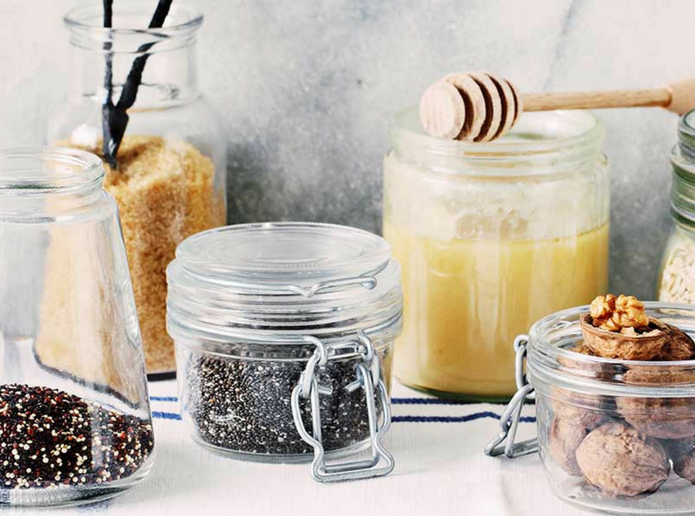 Ingredients:
4 cups old fashioned oats
1 cup oat bran
1/2 cup non-fat dry milk
1/2 cup low fat soy flour
1/2 cup almond meal
1/2 cup ground flax seed
1/4 cup sesame seed
*Serves 12
Preparation:
Combine all ingredients and store in freezer in airtight container.
When ready to make, in a small saucepan, bring 3/4 cup water to a boil. Stir in 1/2 cup cereal mix and turn heat to low.
Simmer for 1 minute, cover and remove from heat.
Allow to stand for 3 minutes.
Serve immediately with fresh berries, if desired.
If you're in a hurry, combine cereal and water in a deep bowl and microwave for 3 minutes.
Heirloom, Cherry or Grape Tomato and Fresh Mozzarella Salad
We all know the copious amount of benefits that arise from consuming fruit and vegetables and this tasty-salad recipe will make eating them less of a chore…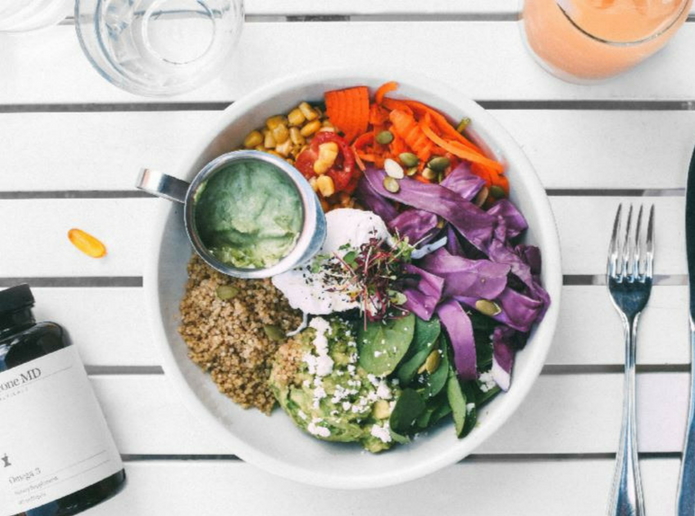 Ingredients
Dressing:
1 tbsp. 12-Star Balsamic Vinegar
4 tbsp. Organic Extra Virgin Olive Oil
2 tbsp. fresh basil, chopped
1 tsp. oregano
1 clove garlic, minced or pressed
Sea salt and freshly ground pepper to taste
Salad:
4 to 6 large heirloom, organic or on-the-vine tomatoes
8 oz. fresh mozzarella
*Serves 4.
Preparations
Mix all 6 dressing ingredients together & set aside.
Slice tomatoes into 1/2 inch slices. If using cherry or grape tomatoes leave whole.
Slice mozzarella into eight slices.
Alternately layer tomatoes and mozzarella, interchanging the different types of tomatoes with each salad.
Drizzle each salad with vinaigrette and season with salt and pepper. Garnish with fresh basil.
Curried Butternut Squash and Coconut Bisque
Who said eating healthily had to be boring? Dr Perricone's Curried Butternut Squash and Coconut Bisque is a powerful anti-inflammatory recipes that combines a number of antioxidant rich ingredients that will promise improvements in overall skin health.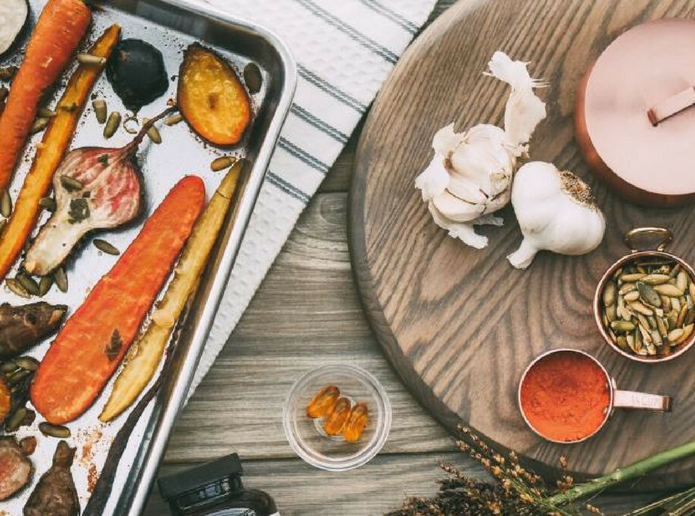 Ingredients
1/2 cup toasted coconut for garnish
2 tbsp. Organic Unsalted Butter
1 medium organic yellow onion, diced
2 cloves garlic, minced
2 tbsp. curry powder
1 tsp. cinnamon
1/2 tsp. allspice
4 cups organic butternut squash, peeled and cubed
2 1/2 cups organic vegetable or chicken broth
1 c. Organic Coconut Milk
zest of one lime
sea salt and pepper
1/2 c. chopped cilantro, for garnish
*Serves 6.
Preparation
Heat skillet over medium-high heat. Add coconut to pan. Toast lightly.
Remove from pan, and set aside.
Melt butter in large saucepan over medium heat.
Add onions and garlic. Cook until tender, stirring occasionally (about 10 minutes).
Stir in curry powder and spices. Cook for about one minute.
Add butternut squash and chicken broth. Bring to a boil, then reduce heat to medium low.
Cover and simmer for 25 minutes, or until squash is tender, stirring occasionally.
Working in batches, carefully puree soup in blender until smooth. Return soup to the pot and stir in coconut milk and lime zest.
Add salt and pepper to taste. Garnish with coconut and cilantro.
Salmon Burgers on a Bed of Baby Greens
Rich in long-chain Omega 3 essential fatty acids, salmon is known to bolster heart health and fight early signs of depression. Rich in astaxanthin, a powerful anti-oxidant and anti-inflammatory, this tasty dish will work to keep skin young, supple and radiant.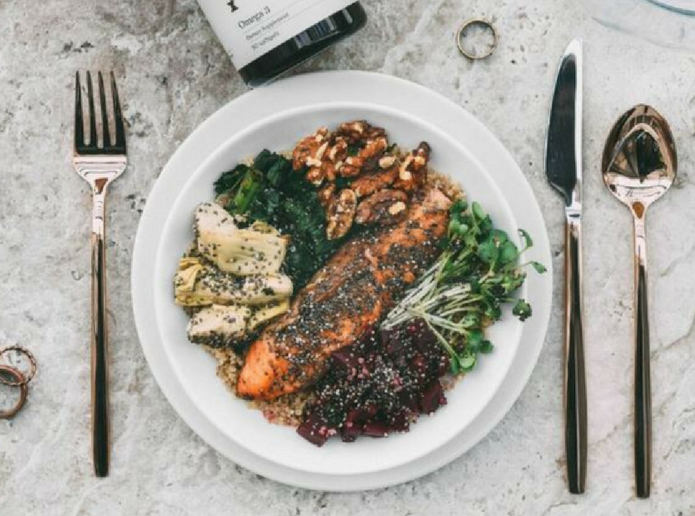 Ingredients
1 14.75 oz. can of Wild Alaskan salmon
3 scallions, minced
1 tablespoon finely grated peeled fresh ginger
1 large egg white
1 tablespoon soy sauce
1 tablespoon olive oil
2 cups baby greens
Preparation
Drain salmon and then stir together with scallions, and ginger in a large glass or ceramic bowl until well combined.
Beat together egg white and soy sauce in a small bowl and stir into salmon mixture; form into 4 (1/2-inch-thick) patties.
Heat the olive oil in a 12-inch skillet over medium heat. Add patties and cook, carefully turning once, until golden brown and cooked through, approximately 6 to 7 minutes.
Arrange ½ cup of greens per plate. Place hot burgers on the greens, serve immediately.
Chick Pea, Cumin, & Coriander Salad
Chick pea's are known to aid sleep, muscle movement, learning and memory. Assisting in the absorption of fat and working to reduce chronic inflammation, this wonder-ingredient also makes for a tasty salad…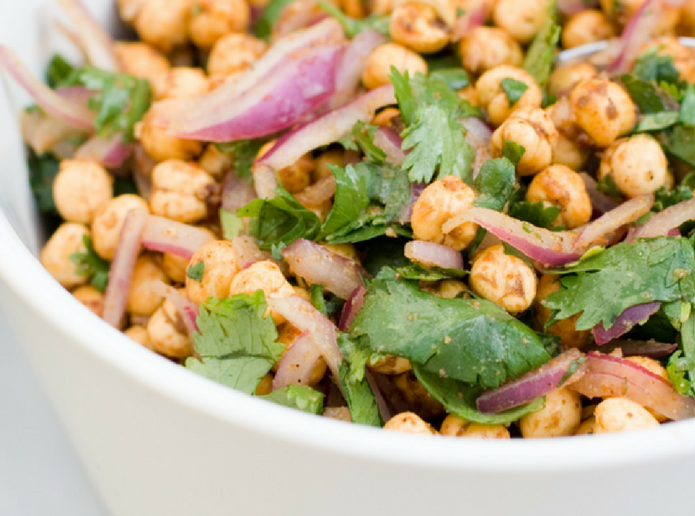 Ingredients
Dressing:
3 tablespoons fresh lemon juice
2 tablespoons white-wine vinegar
2 garlic cloves, minced and mashed with 1/4 teaspoon salt
1 1/2 teaspoons grated peeled fresh ginger root
1 teaspoon ground cumin, or to taste
1/4 teaspoon dried hot red pepper flakes, or to taste
1/2 cup extra virgin olive oil
Freshly ground black pepper
Salad:
Four 19-ounce cans chick-peas, rinsed and drained well
2 red or yellow bell peppers, finely chopped
1 small bunch of scallions, thinly sliced
1/2 cup finely chopped fresh coriander, or to taste
Lemon wedges
Large Romaine Lettuce leaves
*Serves 8
Preparation
In a bowl whisk together the lemon juice, the vinegar, the garlic paste, the ginger root, the cumin, the cayenne, and sea salt and freshly ground pepper to taste.
Add the oil in a stream, whisking, and whisk the dressing until it is emulsified.
Taste it and adjust the lemon juice by adding more if desired.
In a large bowl stir together the chick-peas, the bell peppers, the scallions, the coriander, and the dressing and chill the salad, covered, overnight.
Serve on lettuce leaf and garnish with lemon wedges.