As part of our New Year, New You campaign, we've been collaborating with our friends over at Mornflake. With over 300 years of milling experience, Mornflake are passionate about giving you a great tasting breakfast – using the finest quality oats. All this month we've been providing some of our lovely bloggers with healthy bundles – containing a host of skincare & Mornflake products! Make sure you follow our Twitter to keep up with their new healthy regimes. It's not only a healthy way to start the day, it's a delicious one too! If you follow our blog, you'll be familiar with our #BEMeTime campaign. The campaign is all about you – taking care of yourself from the inside and out. As Beauty Expert Pharmacist Hira Malik explains, "maintaining an inner healthy balance is vital for achieving a beautiful complexion and a youthful appearance. Supplements along with an improved lifestyle not only gives you a boost of goodness but it also helps to maintain a lasting glow". We couldn't agree more with Hira and there's surely no better time to start!?
Oats are the perfect addition for so many meals as they're so versatile, filling and of course – healthy! From traditional oats & oatmeal porridges to flavourful mueslis, from crunchy granolas to chocolatey squares; there's something for everyone. Take a look at our favourite recipes…
Favourite Recipes:
Ingredients: 75g Mornflake toasted Oatbran, 70g Mornflake Oatbran, 350g Low fat natural yoghurt, 270g Plain wholemeal flour, 50g Dark unrefined, sugar, 2tsp baking powder, pinch of sea salt, 150ml Semi skimmed milk, 2tbsp vanilla extract, 1 Free range egg, 150g Frozen or fresh berries
How to make: Place the toasted oatbran, oatbran and yoghurt into a mixing bowl > mix thoroughly & leave to stand for 10 mins > sift & add the wholemeal > stir in the sugar, baking powder & sea salt – mix thoroughly > pour the milk into a measuring jug > add the vanilla & egg to the jug & combine > pour the liquid ingredients into the dry ingredients in the bowl & stir > add the frozen or fresh berries & gently combine > spoon the mix into greased muffin trays, pressing down firmly to ensure each cup is filled > place the trays in the oven (190°C ) & cook for 17-20 minutes – turning half way through > remove muffins from the oven & allow to cool in the tray for 5mins > gently remove the muffins from their trays & place on a cooling rack for 10mins. Serve & enjoy with tea…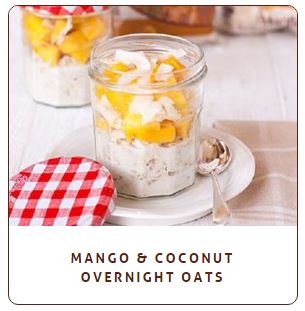 Ingredients: 60g Mornflake Jumbo Oats, 20g Mornflake Coarse Oatmeal, 10g Coconut flakes, 160ml Coconut milk drink, 1 Mango – peeled, stoned and cut into 1cm cubes.
How to make: Divide the oats, oatmeal and half the coconut flakes between two 250ml jars – adding 80ml of coconut milk drink to each jar > top with mango & add the remainder of the coconut flakes > leave in the fridge overnight – allowing the oats to soak up the milk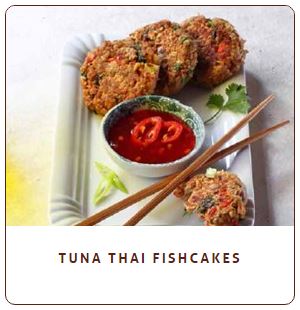 Ingredients: 1 x 340g tin in Tuna in springwater (drained), 2 Eggs (beaten), 120g Mornflake Organic Oats, 6tbsp Spring Onion finely chopped, 3cm piece of fresh root Ginger – peeled & grated, 3tbsp chopped Coriander, 1 red chilli – deseeded & finely chopped, 3 Kaffir lime leaves (finely chopped), 2tsp Thai fish sauce, 1tsp dried Thyme, salt & pepper to season, 2 tbsp Vegetable oil
How to make: Combine the tuna, eggs and Mornflake Oats into a large bowl > Add the spring onion, ginger, corainder, chilli, limeleaves, fish sauce & thyme > mix well & season with salt & pepper > heat the oil in a large frying pan and drop tablespoons of the mixture into the frying pan – flattening each slightly with the back of a spoon > ideally you should have enough to make 8-12 smallcakes > cook for three minutes on each side > serve hot with a thai-style dipping sauce.
Have you been getting involved with our #BEMeTime campaign? We'd love to know what your favourite Mornflake recipes are by heading over to our Twitter @beautyexpertcom!