From humble beginnings, Burt's Bees have struck gold with their philosophy of ensuring that their skin care remains as true to nature as it can be. Never taking the easy way out, Burt's Bees strive to bring you the most natural ingredients with the most environmentally friendly resources that make them an all round world friendly company to buy from.
Here are a few of our favourite products from the Burt's Bees collection on Beauty Expert.
Burt's Bees Radiance Day Creme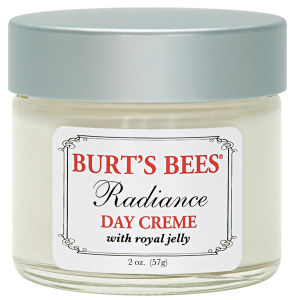 Formulated with royal jelly, this rich face creme promises to brighten your complexion and leave you looking radiant again. Bee pollen maintains moisture levels whilst specialised botanical oils and extracts calm your skin. The Burt's Bees Radiance Day Creme also works on your fine lines and wrinkles to ensure that your complexion remains youthful again.
Burt's Bees Radiance Night Creme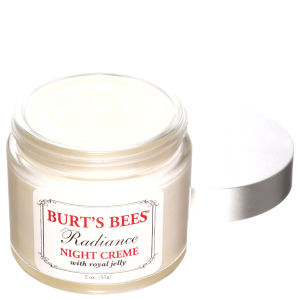 Containing royal jelly again, this light weight moisturiser works overnight to provide your skin with a rich source of nutrients, botanical oils and extracts to brighten and enhance the natural radiance of your skin. Using Lemon, Rosemary and Pine Tree to hydrate and nourish skin throughout the night.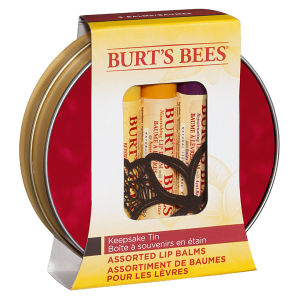 Burt's Bees lip balms are probably the best way to get yourself started with such a unique brand. With a wide range of flavors from pomegranate to peppermint you can experience a long lasting treatment that leaves your lips feeling softer and healthier within days. Nourishing yuor lips with rich ingredients whilst using protectors to keep lips safe from harmful environmental factors.
Burt's Bees Lemon Butter Cuticle Creme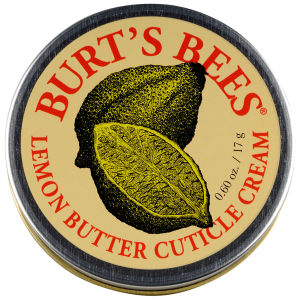 If your hands are feeling a little left out then the Burt's Bees Lemon Butter Cuticle Creme will replenish and hydrate them whilst not interrupting your daily routine at all. With a rich lemon scent, the cuticle creme contains lemon oil to hydrate and nourish cuticles. This is the perfect product to use throughout the day or for use after a manicure.
Burt's Bees Mama Bee Belly Butter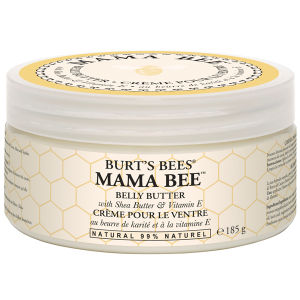 For all the mums to be out there, the Burt's Bees Mama Bee Belly Butter will have you feeling more comfortable in no time. Designed for application on your baby bump, feel the benefits of cocoa, she and jojoba butter as they nourish and moisturize your belly to leave it feeling soft and supple again. You can use this before and after giving birth for long lasting benefits.
Burt's Bees Head to Toe Starter Kit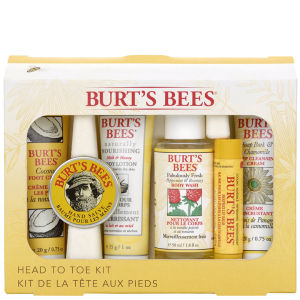 If you've never tried Burt's Bees before then the Head to Toe Starter Kit will give you a taster of that they are all about. With 6 products designed to cleanse, clean and primp you to perfection you can work in the natural hydrating and nourishing properties within Burt's Bees into every stage of your daily routine.
The set contains
Burt's bees Hand Salve – perfect for nourishing and hydrating the hardest working parts of your body. Using beeswax and botanical oils to turn back the effects of chapped, dry and cracked hands.
Burt's Bees Replenishing Lip Balm – Lip balm in a tube that's handy to take around with you, enjoy the nourishing properties of lanolin, coconut and sunflower oils that get your lips back on form again in no time
Burt's Bees Naturally Nourishing Milk & Honey Body Lotion – A non greasy formula that leaves your skin feeling and smelling great. Feeding your skin with milk to soften and honey to moisturize tired or dull skin.
Burt's Bees Peppermint & Rosemary Body Wash – Use from head to toe, this Burt's Bees body wash can increase your body's moisture levels by up to 42% in just one use.
Burt's Bees Coconut Foot Cream – Nourish your toes tingle with Burt's Bees Peppermint Foot Lotion.
Burt's Bees Soap Bark & Chamomile Deep Cleansing Cream – A gentle and effective moisturizing cream, you can clear your skin of dirt, bacteria and grime with the rich cleansing properties of Bark and Chamomile.