Here at Beauty Expert HQ, we've got big, big news. We're thrilled to reveal one of our best-loved beauty brands L'Occitane has swept the board for natural beauty and has only gone and had 18 of their award-winning products featured in the newly published Ultimate Natural Beauty Bible! This is particularly exciting for us, as the products included in the Beauty Bible are rigorously tried and tested to make 100% sure they're up to scratch, and to have 18 of L'Occitane's products recognised at that level really is an achievement.
How are products scored?
Beauty Bible consumer surveys are recognised as the biggest independent cosmetic trials across the globe. Each product is reviewed by a panel of 10 women, who fill in questionnaires about the product and give it an overall score. For the Ultimate Natural Beauty Bible, 2,400 women trialled thousands of products across 55 categories of make-up, hair care and skin and body care to source the best natural beauty products on our shelves worldwide.
Our L'Occitane Shining Stars

With an extensive amount of products featured in the Ultimate Natural Beauty Bible – (woo!), it would take forever to go through each one – as much as we'd like to… So we've picked out our shining stars from the L'Occitane range, which are available to buy on Beauty Expert.
The L'Occitane Shea Butter Ultra Rich Body Cream was one of the reigning winners in the Ultimate Natural Beauty Bible awards – and it's really not difficult to see why. We really do rate this body cream. Why? Well, it's absolutely perfect if you suffer from dry to very dry skin and is very easy to apply. Fast absorbing and formulated with moisturising linseed, marshmallow, sweet almond and nourishing honey, this body cream works to protect your skin whilst providing it with deep hydration, as well as restoring the hydrolipidic film.
A concoction that could have only been created by the gods, the L'Occitane Immortelle Precious Cream was another one of the champions who scooped the skin care gold. A lightly textured cream that works with your skin's natural protective barrier to promote smoother, nourished and firmer skin, this luxurious cream will leave you with less wrinkles and a more youthful glow.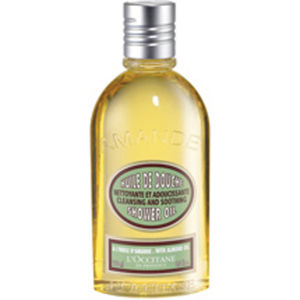 Are you after a luxurious shower time experience? Look no further than the L'Occitane Almond Foaming Shower Oil, a unique skin cleansing treatment that foams when in contact with water. The shower oil is rich in almond oil and nourishing lipids, which work to soften the skin while respecting its natural moisture balance. As well as being featured in the Ultimate Natural Beauty Bible, this shower oil was awarded the Best Ever Body Wash award in the 2013 Woman & Home Best in Beauty.

Now this little gem is just the remedy for swollen, cracked feet in need of a little TLC. The L'Occitane Shea Butter Foot Cream is infused with a cool emulsion of refreshing mint leaves and shea butter, which work together to provide instant relief. Also blended with arnica, which has an anti-inflammatory effect on skin, this cream is perfect to slather onto feet after a long, tiring day.
Last but certainly not least in the Ultimate Natural Beauty Bible award winners is the L'Occitane Angelica Protective Lotion. This wondrous lotion works to intensively hydrate your skin whilst protecting it from the sun's harmful rays, so it's perfect if you've booked a holiday for in the next couple of months. Formulated with organic angelica from the Drome region of France, it effectively moisturises your skin, whilst plumping, illuminating and smoothing your complexion. Skin is protected and your appearance is left looking more youthful.
Have you tried any of the L'Occitane products featured in the Ultimate Natural Beauty Bible? If not, head over to Beauty Expert where you can shop the full range – including the winning products themselves and enjoy free worldwide delivery.