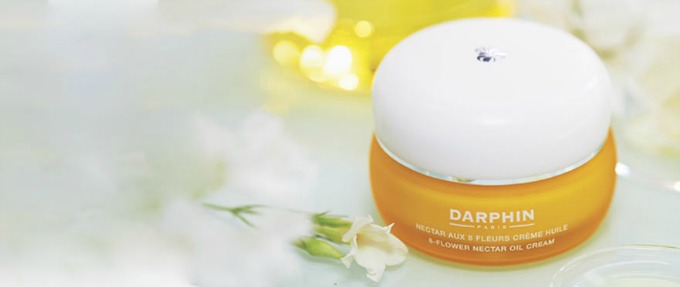 October marks the very exciting launch of the 8-Flower Nectar Oil Cream from the Parisian beauty brand Darphin. Touted as a "precious youth elixir", Darphin's 8 Flower Nectar is the crème de la crème of innovation, quality and research. With the aim to detoxify the skin, combat wrinkles and generate a glowing complexion, the 8-Flower Nectar really is youth in a bottle!
Derived from eight exotic flowers from around the world and formulated with a gorgeous blend of Immortelle, Ylang-Ylang, Patchoulie, Orange Blossom, Darmascus Rose, Lavendar, Jasmin and Iris, this opulent formula promises to leave you with the most radiant glowy skin. The formula also boasts two types of Shea Butter; essential for giving you that creamy and velvety soft finish. And the list of wonderful ingredients doesn't end there. Vitamin C and E has also been added to provide your skin with the ultimate nourishment, whilst essential plant oils such as jojoba, macadamia, avocado, olive, sunflower and cranberry have all been added to help calm and revitalise mature skins.
---
Perfection by numbers…
---
8 the number of flowers in the iconic and rare 8-Flower Nectar Essential Oil
280 petals are infused in very jar of 8-Flower Nectar Oil Cream
49 lab tests were conducted to reach the perfect formulation
168 hours are required for the formula to blossom to perfection
1 revolutionary hybrid oil cream
Boasting an exquisitely feminine and sensual fragrance, Darphin's 8-Flower Nectar Oil Cream is an oil emulsion in water. When applied on the skin, the formula goes from a cream to a comforting oil; giving you the most unforgettable sensory experience. With each application, your skin will benefit from the most soothing comfort and conditioning  treatment, whilst the precious essences are released to help soothe your senses as you sleep. 8-Flower Nectar Oil Cream is sure to give you the beauty sleep you deserve; leaving you with soft, smooth, supple and rebalanced skin.
---
Application Secrets:
---
Step 1 – Place a pearl-sized amount into palm and rub hands together. Gently sweep across face, neck and décolleté. Using one hand, massage forehead, then around the eyes, starting from the outer corner.
Step 2 – With both hands, massage temples, then the top of the cheekbones.
Step 3 – Massage from nose, across upper lip to chin. Then, from cheek to cheek, across upper lip.
Step 4 – Massage along the jawline, then repeat on the neck.
With a belief that every woman can have beautiful skin, Darphin have always been a brand we can trust for delivering the most amazing results.
Have you been lucky enough to try this wonderful product from Darphin? What are your favourite products from this brand? We'd love to know your thoughts by commenting in the box below or @BeautyExpertCom on Twitter. Shop the collection at Beauty Expert, with free delivery.