If you've stayed in a luxury hotel, you'll know that there's no night's sleep like it. From the firmness of the perfectly formed mattress to the softness of the Egyptian cotton sheets, there's no reason why you can't indulge in the same quality of z's in the comfort of your own home. Inspired by my recent trip in a certain 5* hotel in the Mediterranean, I've rounded up some top tips to ensure a perfect night's sleep (not just on vacation).
Invest in a quality mattress
Okay, so this one is an investment. But what better investment than in your own wellbeing? Sleep not only makes you feel better, it boosts your mood, your memory and helps you live longer. Plus, a good night's sleep helps combat those pesky under-eye circles.
Whilst replacing a mattress can seem like an exhausting proposition, the main things to look for in your latest sleep partner is quality and durability.
In terms of how much you should spend, it goes without saying that you get what you pay for. Andy Hills of And So To Bed, told the Telegraph "Spend as much as you can afford. The minimum should be £700 on the mattress and bed base combined. It always strikes me as absurd that people will spend £3,000 or £4,000 on a sofa which they sit on for an hour or two some evenings, and much less that £1,000 on a bed where they will spend a crucial eight house every night." He's got a point.
Check your thread count
When it comes to thread count, the higher the better.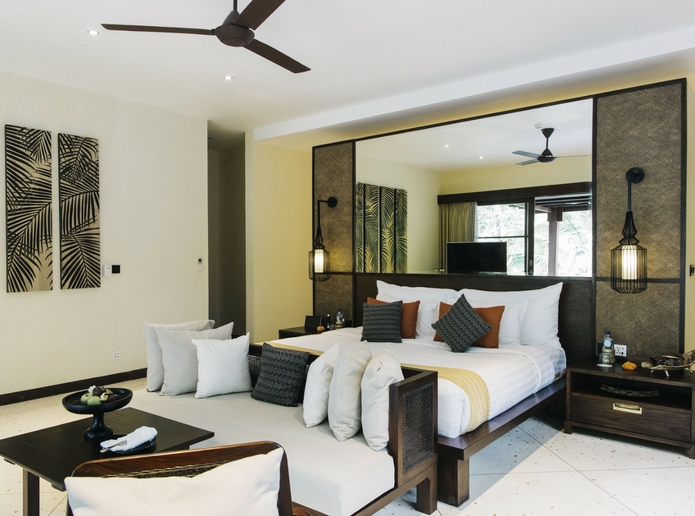 What is thread count?
It's the number of horizontal and vertical threads in one square inch of fabric. As a general rule, the higher the count the softer the sheets. Sybil Pool, a spokesperson for Park Hyatt told My Domaine, "Start with clean, white sheets with a high thread count." The basic or standard thread count in cotton sheets is around 150 but most luxury hotels rely on a thread count of 300 or more. That explains why during a stay in a luxury hotel, the sheets are softer, our skin is less-irritated and our sleep is much more rejuvenating.
Go pillow shopping
Besides from the inviting nature of a bed covered in a mountain of sumptuous cushions, having a few extra fluffy additions on your bed can also make for a perfect night's sleep. Richard Burton, art director of NZ House & Garden told Stuff that five pillows is the optimum amount for a happy night's sleep. He said: "Two pillow is too few; it just looks sparse and uninviting. Aesthetically, it could be nice to have more, but the more you have the more fuss there is, and the more time you have to spend making and unmaking your bed. Five is the perfect compromise.
Discover our products for the perfect night's sleep here