Built on the belief that every woman can have beautiful skin, Darphin have been transforming the complexion of women everywhere for over 50 years. Originating in Paris, this innovative brand were the first to introduce the concept of 'whole body' treatments. We uncover the history behind the brand and take a look at some of their cult products…
The History of Darphin
Originating in 1958, Darphin revolutionised beauty with their exclusive skin-sculpting techniques, sensory experiences and customised skin analyses. Founded by Parisian kinesiotherapist, Pierre Darphin whose motivation for the brand came from his desire to encompass the innovative and developmental processes of the Parisian beauty industry, this forward-thinking brand brought together cosmetologists, massage therapists, manicure experts and other professionals with the goal of giving clients the most all-encompassing treatments possible.
Known for his strong opinions, high standards and unwavering insistence on the most conscientious care, Pierre Darphin continually set new standards for cosmetic services. When the first "Institut de Beauté" opened in Paris, he continued to revolutionise the beauty industry changing his focus from adopting pre-existing processes to creating innovative products. More than 50 years later,  it is this fierce perfectionism, selectivity and passionate attention to detail that resulted in the successful creation of every Darphin product.
The Darphin Philosophy
A firm believer that beauty treatments require a specific massage technique to enhance their delivery into skin, Pierre Darphin strived to develop a highly innovative protocol, which remains at the very heart of all their beauty treatments today. Dedicated to the use of natural botanicals, Darphin incorporate one ingredient at a time into their products in order to release their potency and preserve their integrity.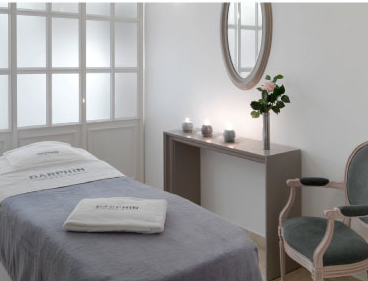 At the core of the brand is the belief that every application should be a joyful, uplifting experience. Giving the most personalised attention, the brand invite you to indulge and reward with the promise of perfect performance that delivers flawless results. A passion for perfection and a love for what they do makes up the art of formulation at Darphin.
The Favourites:
An elegant juxtaposition between traditional and modern, the Darphin range combines the finest natural ingredients with the most innovative technologies and expertise to bring to you luxurious products that offer time for self-indulgence as well as visible results…