No matter what, our Mum's deserve only the best. That one person you can call when things go wrong, your Mum should be spoiled this Christmas and we have a wide selection of treats for her to enjoy.
Skincare
This set contains the following products:
Eve Lom Cleanser 50ml
Eve's legendary balm & muslin cloth removes impurities, decongests and balances while gently exfoliating & brightening. Leaving skin exceptionally soft, smooth & radiant.

Eve Lom TLC Radiance Cream 25ml
A lightweight daily moisturiser to help your skin look and feel soft, hydrated, youthful and radiant. It provides hydrating, lifting and radiance boosting actions.
Eve Lom Rescue Mask 15ml
An effective, lightweight formula that immediately brightens, lifts and hydrates while powerful antioxidants provide protection from skin-ageing free radicals.
Eve Lom Kiss Mix Lip Treatment 7ml
This hydrating, protective balm moisturises dry lips while adding a subtle sheen and a refreshing tingle effect.
Perricone MD Wrinkle Fighting Set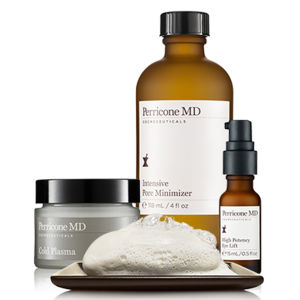 This set contains the following products:
Perricone MD Intensive Pore Minimizer (118ml)
Perricone MD Intensive Pore Minimizer tightens the appearance of pores and delivers less oily, less shiny skin that remains fresh all day. By controlling and absorbing excess oil, the benefits are instantly visible leaving skin smooth and matte. By gently exfoliating with salicylic acid, wax and dirt build-up that can clog and enlarge pores are carefully cleansed while DMAE helps tighten skin, improving the appearance of pores (both instantly and over time)
Perricone MD Glycolic Bar (3 Bars)
Different from any cleanser you may have used in the past, Perricone MD Glycolic Bar gently exfoliates and cleanses the skin to reveal its true clarity and radiance. Great for the face and all over the body, this miracle treatment is suitable for all skin types and will impart a lustrous, bright appearance. A daily essential for any skin care routine.
Perricone MD High Potency Eye Lift 15ml
Intensive and quick to absorb, Perricone MD High Potency Eye Lift helps repair the advanced signs of ageing that appear around the delicate eye area. This treatment lifts skin for a visibly transformed appearance whilst minimising deep lines. Featuring Dr. Perricone's patented anti-ageing ingredients DMAE and phospholipids, this potent product has been formulated with pycnogenol to address loss of elasticity and helps brighten the skin's appearance, leaving you bright and radiant.
Perricone MD Cold Plasma 30ml
Perricone MD Cold Plasma represents Dr. Perricone's most comprehensive and efficacious work to date. Working to combat wrinkles, enlarged pores, dryness, redness, discolouration, uneven skin tone, impurities, loss of firmness, loss of smoothness and loss of radiance, this composite delivers extraordinary results whatever your age or skin type.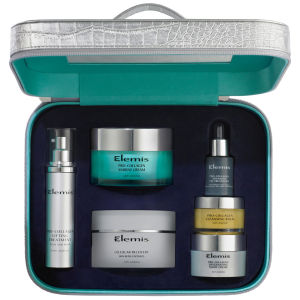 Contains:
Pro-Collagen Marine Cream 10th Anniversary 100ml: Formulated with padina pavonica extract, this revolutionary cream will transform your complexion in just two weeks. Providing free radical protection, it works to dramatically increase skin firmness and elasticity.
Cellular Recovery Skin Bliss Capsules 60 Caps: With fantastic anti-ageing properties, the capsules contain pure moringa oil which renews skin elasticity and youthfulness. Rich in antioxidants, they help to protect your skin against free radical damage by sweeping toxins away.
Pro-Collagen Lifting Treatment Neck and Bust 50ml: A powerful anti-ageing product, this treatment reduces crepiness and improves skin firmness, minimising the visible signs of ageing and slackening skin. Formulated with padina pavonica, seabuckthorn, royal relly and propolis, as well as European samphire and cistacea, it will leave your neck and bust looking smooth and supple.
Pro-Collagen Oxygenating Night Cream 30ml: Designed to mobilise, protect and support the cell structure, this luxurious cream plumps, hydrates and brightens your skin, leaving it with a more youthful appearance.
Pro-Collagen Cleansing Balm 30g: With a 100% active base of natural oils, this powerful treatment effectively removes makeup and impurities from your skin. Your complexion will be left looking radiant and smooth.
Pro-Collagen Advanced Eye Treatment 15ml: With padina pavonica and blue flower linseed, this treatment firms, smoothes and targets the appearance of fine lines, helping to attract more moisture into the deeper layers of your skin.
Luxury Cotton Cleansing Cloth: Made from pure, super-soft cotton, these cloths are great for removing cleansers, masks and exfoliators, whilst gently removing dead skin cells and boosting microcirculation.
Haircare
 Kerastase Cristalliste Coffret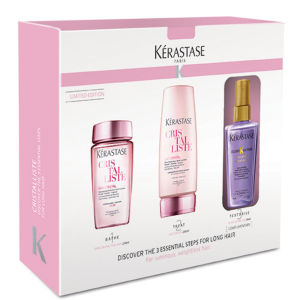 The set contains:
Bain Cristal Fine Hair (250ml)
Super light and balancing, this weightless product is free from any silicon, colourants and parabens and works to clean your hair from the roots whilst providing it with a weightless yet polished look.
Lait Cristal (200ml)
Improving the hair's natural shine whilst creating a light and airy feel, this conditioner helps to detangle your hair and leave the ends smooth and soft.
Elixir Ultime Cheveux Fins (50ml)
Make your hair look truly magnificent with this decadent oil. Versatile and conditioning, this product is suitable for every hair type to soften, reinforce and enhance shine.
Matrix Biolage Exquisite Oil Gift Set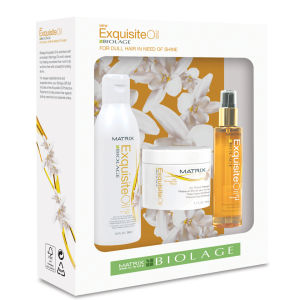 Designed for dull hair in need of some shine, this Matrix Biolage Exquisite Oil Gift Set contains three products that are enriched with antioxidant moringa oil which nourishes hair from the root to the tip leaving it looking and feeling frizz free. Containing a 250ml bottle of the micro-oil shampoo as well as a 150ml tub of the deeply replenishing oil ritual hair masque and a 92ml of the stunning exquisite oil, this set would be perfect as a gift or for treating yourself.
L'Anza Keratin Healing Oil Trio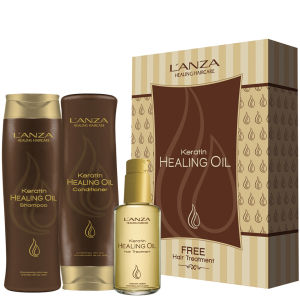 The L'Anza Keratin Healing Oil Trio, worth £81.85, contains a shampoo, conditioner and hair treatment that are formulated with four botanical oils to nourish dry, stressed hair, whilst the Phyto IV Complex provides the ideal balance of essential fatty acids, leaving your hair strong and moisturised. When used together, the products can also build body and protect your hair colour.
Contains:
Keratin Healing Oil Shampoo 300ml
Keratin Healing Oil Conditioner 250ml
Keratin Healing Oil Hair Treatment 100ml
Make-Up
Bellapierre Cosmetics 5 Brush Set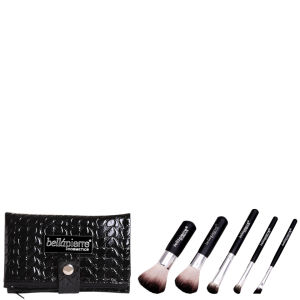 Each brush in the Bellapierre Cosmetics 5 brush set is made from natural, silky-soft goat and sable hairs, meaning they won't irritate your skin. With strong and sturdy handles, these brushes are sure to stand the test of time, and are presented in a handy case that's ideal for travel.
Contains:

1 x Foundation Brush
1 x Angled Blush Brush
1 x Concealer Brush
1 x Eye Shadow brush
1 x Duo Liner/Brow Brush
Mavala Colours & Gloss Warm Gift Pack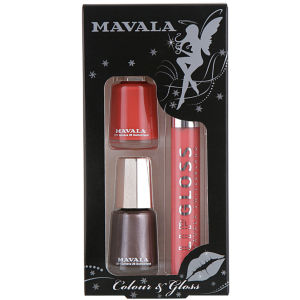 This Mavala Colour & Gloss Warm Colours Gift Pack's lip gloss is grapefruit flavoured in a delicious shade, perfectly complementing the seductive nail varnishes. This lip gloss boasts an ultra-shiny non-sticky formula, enriched with grape seed oil to nourish lips, and featuring tiny shimmering particles of mother-of-pearl to give your lips that extra dazzle and shine. Soften and protect your lips with this super tasty and delectable matching lip gloss.
This Mavala Colour & Gloss Warm Colours Gift Pack includes:
Marrakech (5ml)
Platinum Marble (5ml)
Grapefruit Lip-gloss
Elizabeth Arden Ceramide Eye Mascara Set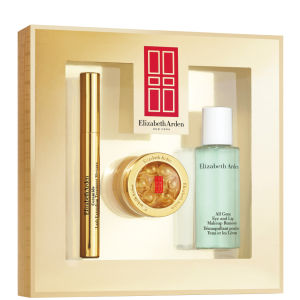 The complete package for getting bright eyes and gorgeous lashes, the Elizabeth Arden Ceramide Eye Mascara Set contains three products that complement each other beautifully and all work to keep your eyes looking their best.
This set contains:
7ml Ceramide Lash Extending Treatment Mascara in Black
1.2ml Ceramide Caps Daily Youth Restoring Eye Serum, 7pcs
50ml All Gone Eye & Lip Makeup Remover
Bath & Body
Elemis Award Winners Face & Body Collection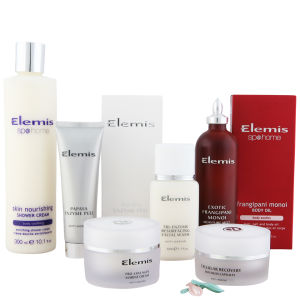 Contains:
Elemis Papaya Enzyme Peel (50ml): This rinse-off exfoliating cream contains nourishing Milk Protein, Anti-Oxidant rich Vitamin E and Marine Algae to moisturise, repair and protect skin. It's ideal for sensitive or mature complexions.
Elemis Pro-Collagen Marine Cream (30ml): A powerful anti-ageing cream that's clinically proven to reduce the appearance of wrinkles and boost hydration.
Elemis Cellular Recovery Skin Bliss Capsules: Contains anti-ageing properties to dramatically renew skin elasticity and youthfulness.
Elemis Tri-Enzyme Resurfacing Facial Wash (50ml): This daily facial wash stimulates the skin's natural cell renewal cycle, actively smoothing and refining whilst gently sloughing away dead skin cells which dull the complexion.
 Elemis Frangipani Monoi Body Oil (100ml): An indulgent 3-in-1 body, hair and nail oil that's infused with exotic Tahitian Monoi and Frangipani Flowers for superior moisturisation, giving skin a glorious sheen.
Elemis Skin Nourishing Shower Cream (300ml): This exquisite shower cream contains Milk Protein that enriches the body and balances the skin. It's excellent for excessively dry skin.
Burt's Bees Tips n Toes Hands & Feet Kit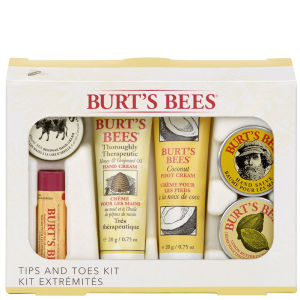 Soften and care for your hard-working hands and feet with a kit designed especially for them.
This collection of our rich creams and softening butters will keep your hands and feet naturally soft and beautiful.
Molton Brown The Bath & Body Treasures Collection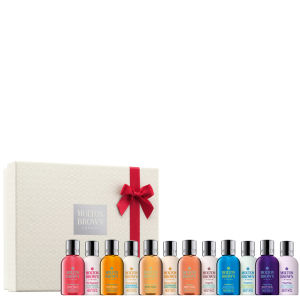 Do something differently everyday with this Molton Brown The Bath and Body Treasures Collection. Containing six pairs of gorgeous products which all help to nourish your body and tantalise your senses, this collection is ideal as a gift or for simply treating yourself.
Molton Brown The Bath and Body Treasures Collection
12 piece set made up of six pairs of body wash and lotion
A blissful collection that would make a stunning gift
Comforting and luxurious textures
This set contains:
Pink Pepperpod Body Wash (50ml)
Pink Pepperpod Nourishing Body Lotion (50ml)
Gingerlily Body Wash (50ml)
Gingerlily Nourishing Body Lotion (50ml)
Ylang-Ylang Body Wash (50ml)
Ylang-Ylang Nourishing Body Lotion (50ml)
Templetree Body Wash (50ml)
Templetree Nourishing Body Lotion (50ml)
Suma Ginseng Body Wash (50ml)
Suma Ginseng Nourishing Body Lotion (50ml)
Japanese Orange Body Wash (50ml)
Japanese Orange Nourishing Body Lotion (50ml)