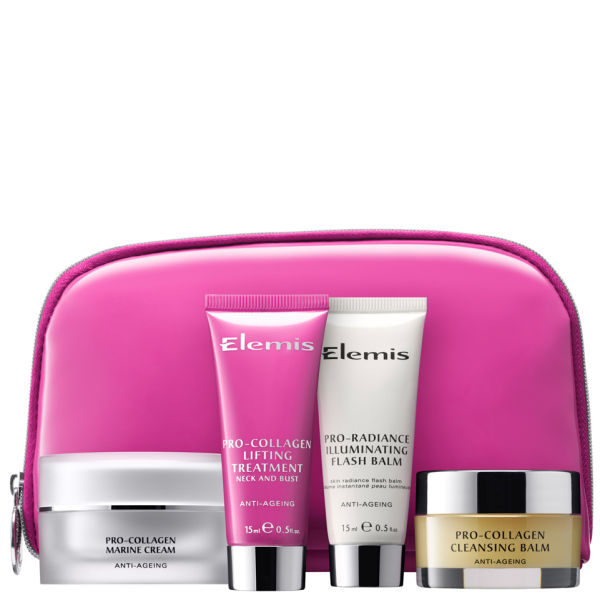 Every year in October premium skin, hair and beauty brands bring out a limited edition Think Pink products to raise money for Breast Cancer Care. With a percentage of the money you spend going towards the well supported charity, we are loving the colour and the feeling that pink is giving us this month.
The Elemis Think Pink Beauty Heroes Kit contains 4 of Elemis' best selling skin care products all contained within a gorgeous pink cosmetics case.
In the Think Pink bag you get –
Elemis Pro Collagen Marine Cream
This wonder cream took three years to develop, using the maximum concentrate of powerful marine extract Padina Pavoncina to transform your skin.
Elemis Pro Collagen Cleansing Balm
The Elemis Pro Collagen Cleansing Balm dissolves make up, dirt and oil from your skin, using an enriched blend of precious starflower, elderberry and optimega oils as well as rose and mimosa waxes that work together to deeply cleanse, smooth and moisturise your skin.
Elemis Pro Radiance Illuminating Flash Balm
An exciting new 'hybrid moisturiser' that works to instantly fatter your skin tones whilst hydrating and nourishing your skin. Make your skin feel good whilst looking great with a soft balm that blends into your skin, providing you with a healthy glow for your complexion.
Elemis Limited Edition Pink Pro Collagen Lifting Neck & Bust Treatment
With natural anti-aging properties, this Lifting Neck & Bust Treatment uses premium nourishment to give your decolletage a smoother and more youthful finish.
Elemis Pink Cosmetics Bag
You can find the Elemis Think Pink Beauty Heroes Kit here