Is it time for you to up your skin care routine?
Are you ready to discover your next skin care solution?
Then allow us to introduce you to StriVectin, the innovative skin care brand that uses unique technology to produce breath-taking results for you and your skin.
Here at BeautyExpert.com we wanted to tell you a little bit about StriVectin's patented NIA-114 technology so that when you pick up a product from this brand, you know exactly what is being absorbed into your skin and exactly what impact it will have.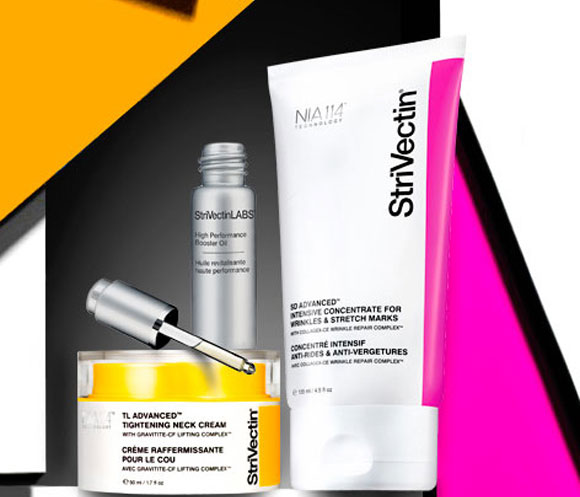 In the hunt for a cure to skin cancer, two chemists discovered the miracle NIA-144 molecule and realised its ability to revitalise, hydrate and transform the skin. Thanks to an advanced form of the organic compound Niacin (otherwise known as Vitamin B3), this technology has 4 notable effects on the skin that will transform your skin care routine for good:
1. To energise skin cells for optimum health
2. To strengthen and rebuild the moisture within the skin barrier
3. To reduce the impact of environmental aggressors
4. To increase the efficacy of other active ingredients within the products
On top if this, all skin care solutions are non-comedogenic, sulphate-free and paraben-free; we don't know about you, but we're sold! Now, enough science talk – the brand isn't just aware of the scientific impact that their unique technology has, but they're also dedicated to making women all over the world look and feel beautiful in their skin. The brand know that women just like you want your skin care routine to be as fuss-free as possible with visible results, and they make sure that all of their products cater to your lifestyle needs!
"Life is complicated, but beauty doesn't have to be."
We couldn't agree more.
Another woman who agrees is the legendary Dame Judi Dench, who has recently been quoted saying that "StriVectin products are fantastic". If you want skin in your 80s that's as radiant and glowing as hers is, then you'd better start using StriVectin right away. Plus, If it's good enough for a Dame, then it's good enough for you!
Now for the fun part – time to have a look at some of the quality skin care products that the brand creates and what they can do for you!
StriVectin SD Intensive Concentrate
Forming part of the Anti-Aging range, the SD Intensive Concentrate began life as a stretch mark cream, but is now an anti-wrinkle phenomenon. Ideal for targeting facial wrinkles, crow's feet and fine lines (as well as signs of stretch marks), this anti-wrinkle cream is proven to leave your skin looking youthful, hydrated and smooth. Wait until you hear what a team of testing consumers had to say too – 91% noted healthier skin, 88% noted extremely nourished skin and 88% noted restored moisture in the skin. Are you convinced yet? We thought so!
StriVectin Tightening Neck Serum Roller
A valuable part of the Tighten & Lift range, the Tightening Neck Serum Roller works to instantly firm the neck skin with an easy-to-use roller applicator. With all of the gains of the NIA-114 technology as well as visible tightening effects, your profile will be transformed with this innovative neck cream. 98% of tester consumers felt smoother skin, 95% felt hydrated & more supple skin, and 87% had a firmer neck after use – sign us up!
StriVectin-AR Day SPF 30 & Night Treatment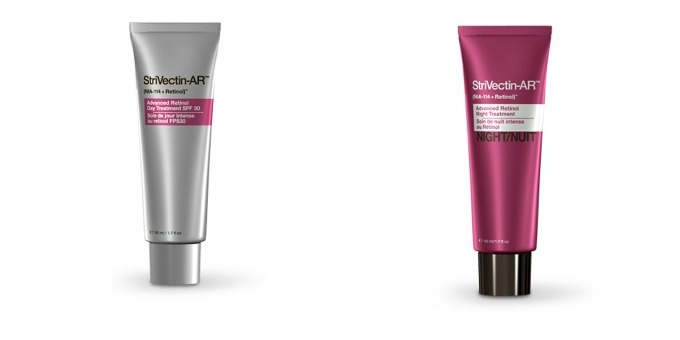 2 key players in the Multi-Action Advanced Retinol range, the AR Day SPF 30 & Night Treatment work to fight signs of aging all throughout the day. Proven to reduce the appearance of wrinkles, even out the skin tone, smooth skin texture and more, the day cream is a great way to secure youthful skin. Plus, the cream is SPF 30, so that your skin stays protected from harmful UV rays – pick one up now just in time for summer! When it's time for the Night Treatment to take over, you'll find that your skin is nourished and moisturised overnight whilst fine lines and imperfections are reduced. Proven to work wonders, this dynamic duo make up the ultimate skin care routine.
Browse the full StriVectin range here at BeautyExpert for your next skin solution. Free delivery worldwide.