Men and boys are notoriously difficult to buy for, varying from the usual gaming and sock related presents, there is a whole host of gift sets within the skin care and shaving world just waiting to be wrapped up and gifted this Christmas. Check out Beauty Expert's Gifts for Him range now, or check out some of our top picks below.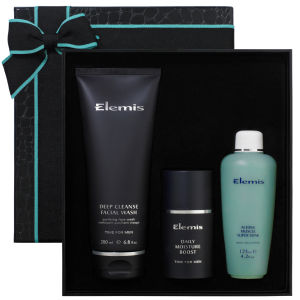 The Elemis The Adventurer set contains a trio of products that will soothe, refresh and energise your skin from head to toe. It's the perfect gift for those with busy lifestyles.
Contains:
Deep Cleanse Facial Wash 200ml: Formulated with spearmint, peppermint, oak bark and milk protein, this tough yet gentle face wash effectively removes all traces of dirt and impurities, leaving your skin feeling clean and refreshed.
Aching Muscle Super Soak 125ml: Perfect for easing aches and pains, this energising soak is enriched with birch, juniper, clove, alpine lavender, wild thyme and blue chamomile to warm your muscles and calm your senses, whilst sea salt eases tired limbs to leave you feeling completely soothed.
Daily Moisture Boost 50ml: Lightweight and non-greasy, it contains a blend of Polynesian green tamanu oil and cactus cerus flower which soothe shaved skin, whilst citrus oils offer free radical protection. Meanwhile, plant-based natamilks help to enhance elasticity and suppleness.

Paul Smith Man 2 Gift Set
The ultimate set for the modern man, this Paul Smith Man 2 Gift Set presents a 50ml bottle of Paul Smith's Man 2 Eau de Toilette with the innovative All Over Shampoo to ensure that you're smelling great and your hair looks and feels silky soft.
This set contains the following products:
Paul Smith Man 2 Eau de Toilette 50ml
A fresh, citrus fragrance, this Man 2 Eau de Toilette from Paul Smith is an explosion of grapefruit and mandarin with an essence of Granny Smith apples for a touch of English class. With spicy undertones, the combination of nutmeg, cardamon and cinnamon give the scent layers of irresistable aromas, with a finishing note of lavender and cashmere wood.
Paul Smith Man 2 All Over Shampoo 100ml
Designed to give your hair a deep but gentle cleanse, this All Over Shampoo from Paul Smith boasts a fresh, citrus fragrance that exudes masculine charm. With the refreshing smell of grapefruit, mandarin and cardamon, this shampp will leave your hair feeling just as good as it smells.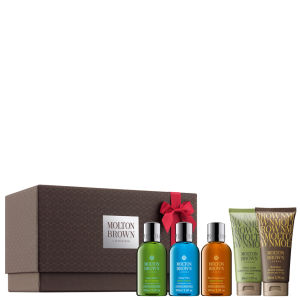 Make your daily routine a bit more adventurous with this dynamic Molton Brown The Explorer Collection. Containing five hearty products which all help to nourish your body and ensure you exude confidence, this collection is ideal as a gift or for simply treating yourself.
Molton Brown The Explorer Collection
Five-piece body wash and lotion collection
Hearty scents
Perfect for those who want to smell adventurous and confident
Dynamic and soothing
This set contains:
Bushukan Body Wash Tube (80ml)
Purifying Shampoo Indian Cress Tube (80ml)
Black Peppercorn Body Wash (100ml)
Silver Birch Body Wash (100ml)
Watermint Body Wash (100ml)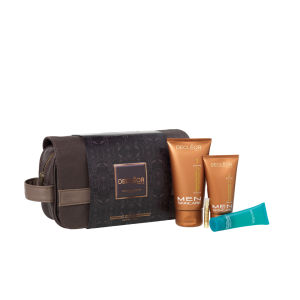 Created to keep men's skin supple, soft and hydrated, this Men Skincare Collection by Decleor is a must have. Making the perfect gift, it contains four products which work together all over the body to ensure skin is nourished and silky smooth.

This set contains the following products:

Decleor Men Skincare Soothing After Shave 75ml
Hydrates your skin and heals razor burn and small cuts.

Decleor Aromessence Homme 1ml
Decléor Men Aromessence Triple Action Shave Perfector Serum leaves your skin smooth and clear for a trouble free shave. The specially formulated triple action is designed for maximum effectiveness in the perfection of your shave.
Decleor Skincare Exfoliating Gel 125ml
Thanks to its gentle cleansing and hydrating agents, this Decléor Exfoliating Shower Gel gently eliminates impurities and scrubs away dead cells to refine your skin's texture. As you work it into a luscious lather you instantly feel fresh and invigorated.
Decleor Cleanse Alguarome 30ml
Formulated with essential oils of lemon, lavender and seaweed extract, it gently washes away impurities whilst toning and invigorating your skin for a truly awakening experience. Suitable for all skin types, this vibrant shower gel will make the perfect pick-me-up, as it effectively uplifts both your skin and your senses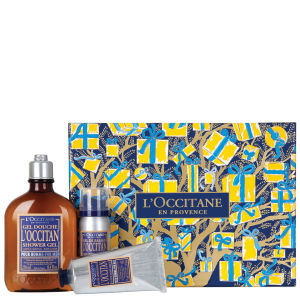 Put together to give you the smoothest, most comfortable shave, this L'Occitane Men's Collection by L'Occitane is the ultimate gift for the well-groomed man. Containing a trio of innovative products which will leave your skin silky soft.
This set contains the following products:
L'Occitane L'Occitan Shower Gel 250ml
L'Occitane Shower Gel – L'Occitan is a body cleanser and shampoo in one, making it ideal for travelling or your gym bag. Refreshing and uplifting, this gel echoes the rugged aroma of L'Occitan Eau de Toilette.
L'Occitane L'Occitan After Shave Balm 75ml
L'Occitane Aftershave Balm with a hint of the L'Occitan fragrance is sure to redefine after-shave comfort. An extraordinary blend of shea butter and Birchwood sap reduce redness, razor burn and skin tightness to soothe and nourish after shaving.
L'Occitane L'Occitan Shaving Gel 30ml
L'Occitane Shaving Gel is a fresh gel that transforms into a silky foam, guaranteeing a smooth, precise shave with optimal protection against the risks of cuts, irritations and dryness.